Idea Source:@Fanzhi
TLDR:
Web3FansClub is a community and a channel for aggregating resources
The whole plan is divided into three steps.
Youth Community. Schools to Counties
Web3 in the County: Thousands of Counties in Action
Web3FansClub: Web3 Reunion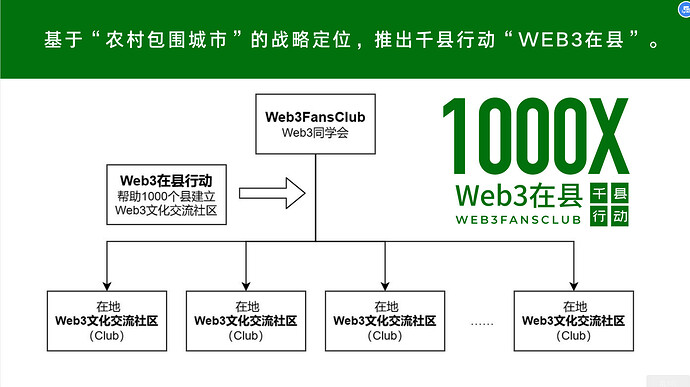 Core Vision
Bringing the next billion users into the Web3 world from China's Web3 sink market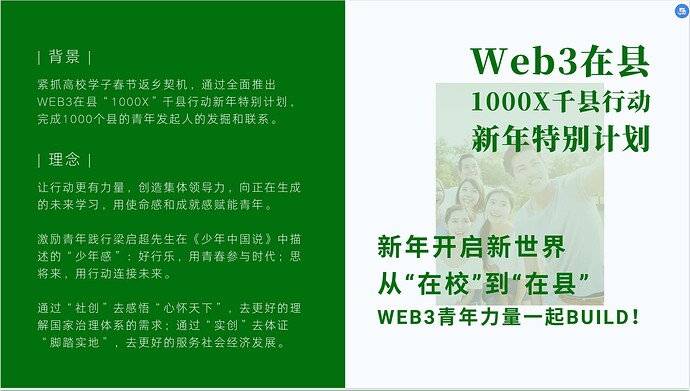 Activity results:
In October 2022, the core concept of MetaSIR was introduced to promote "Encrypted World, Real Interaction", a community network and space building driven by the concept of MetaSIR. MetaSIR refers to Meta Soul In Reality and Meta Space In Reality.
Meta Space In Reality.
In November 2022, Web3FansClub was launched and a China operation centre was established in Changsha, a Web3 network city, which was named "Web3Fans Wanbo Shanfang".
In December 2022, ChangshaDAO was launched through the CityTryDAO mechanism and concept, and a series of New Year's themed events were successfully held, including several networking events, NFT releases, etc.
In January 2023, the Web3 in County 1000 X 1000 County initiative was launched to cover the sunken market and a special New Year's Eve campaign for youth was launched, taking the opportunity of students returning home for the Chinese New Year.
@FANZhi We are currently thinking about how to combine Web3FansClub with LXDAO.
There are several major options currently under consideration
Product Collaboration: MyFirst series (currently able to provide MyFirstNFT, MyFirstLayer2, MyFirstDAO, etc.), allowing many people interested in Web3 to understand some of the basics at once. LXDAO can provide support to make it easier for everyone to use.
Promotion cooperation: Activity posters etc. can be promoted in the LXDAO community, and relevant Space/AMA activities can be jointly initiated and organised.
Training cooperation: Open courses can be offered based on the content of previous Henan University lectures, as well as introducing courses from other partner organisations.
Technical cooperation: technical support for some project incubation is involved and will be discussed separately depending on the circumstances.
Now we can think about a few questions
how to productise the event
integration of resources
technical support