TL;DR
Improving LXDAO Governance Rates
In last week's governance meeting, a discussion arose around lowering the voting thresholds and increasing the governance rate.
Marcus, after some research, came up with the idea of lowering the voting threshold for consensus-level proposals from 70% to 50%, and adopting a dynamic threshold voting scheme.
This idea was rejected in the governance meeting, and after a coherent discussion, the governance group decided that the core goal of solving the current governance problem is to increase the governance participation rate and to generate more public goods through governance decisions.
Status of governance activism
Only 20%-30% of people voted on the most recent proposal, which is a low rate for the 67 Buidler card holders we currently have!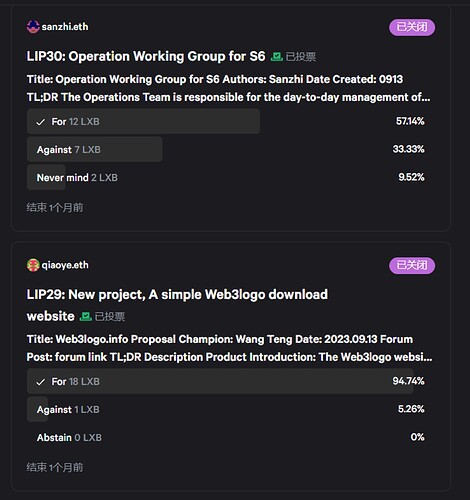 Buidler card holder: https://opensea.io/collection/lxdaobuidler
We have analysed many addresses and also found that some of them have not participated in voting for a long time
Compare this to LXDAO's current turnout of 20%~30%. to give you a reference total vote turn out for Brexit was 72%( Brexit referendum: Voting analysis ) and US presidential election is 62%( Voter turnout in United States presidential elections - Wikipedia) .
But this is not a new problem, forbesfinancecouncil defines lack of user engagement as one of the three major challenge within DAO. In a paper published by World Economics Forum on DAO defines engagement as challenge within DAOs along with privacy, scalability to name a few.
Why governance inactivity occurs
The reasons why this happens we analyse as follows
Lack of incentives
In our communication with the buidler card holders, we found a more central problem:
I have no stake in this proposal (at least in the short term), so why should I vote?
What motivation, other than altruism, do I seem to have for voting? What other motivation do I have to think deeply about my vote?
The proposal is complex
I may be an expert in something, but I have no knowledge of another industry, just as Einstein didn't understand the oil industry
I read the proposal with confusion because of my lack of expertise, but I don't know who to turn to for information
Untimely notification
Proposals are posted on Mondays and Wednesdays, with notifications on Thursdays, but some members don't pay attention to the community news.
Other personal reasons
They may have been traveling, on holiday, sick, etc. during the voting period.
Early discussions
During last week's governance meeting, 7 members presented their ideas around the governance aspect of the meeting
Tristan: Responded to the previous idea of lowering the voting threshold for consensus level: going from 70% to 50% is not a good approach, rather he was reacting to a lack of active governance, which should be solved first rather than changing the voting rules
Propose a decay system: the voting right is 1, and if a person doesn't vote for a long time, the voting right becomes 0.
Ray: Voting rights decay from 1 to 0, long term non-voters will be decayed
Bruce: Voting is on an application system, new vouchers for voting rights, active applications, if people with voting rights go to the polls then they get incentives, people with buidler cards can participate in the applications
Jessica: Apply for voting rights based on contribution value, current season's contribution value is the core data
Cikey: A lot of people don't understand the proposal and need expert advice
Emptyman: There is no incentive to participate in the voting process, and it doesn't get a lot of attention.
Marcus: Lowering the consensus proposal threshold, Voting decay system, long term non-voting decay
In early discussions, the decay system was not supported due to technical specification issues.
Solution.
To combat voter apathy, I see three solutions:
simplicity - ease the burden of voting
reward - reward good participation
documentation - make it very clear where and how to initiate proposals, votes, and comments
1. simplicity
Simple proposals promote more participation in governance and counter voter apathy
Optimisation of the proposal framework: We will optimise the proposal framework for proposals, combining simple and efficient proposal templates to reduce the burden of voting, and introducing a new approach for professional-level proposals or projects, such as a professional-level development project, where non-developmental members may not fully understand the proposal.
Experts' comments: For some professional-level proposals, we will commission experts to evaluate the proposal before the snapshot proposal is released, and give pertinent suggestions to make it easier for members in different fields to read the proposal.
2. Incentives, rewarding good participation
There is some kind of financial link between the vote and the overall value to incentivise good participation in the vote
Where does the incentive money come from?
Each quarter, the governance team will apply for a set of governance funds to be used specifically for voting incentives and participation, with the application budget presented at the end of each quarter in the strategy meeting
To whom the incentive will be awarded
Governance Participants: in the new quarter, we will be adopting a voting application system, where every buidler card member who wishes to participate can apply for a vote, and will be rewarded for applying for a vote and for participating in the vote
Critical commenters: This incentive is not only for snapshot proposals, but also for projects where a member has a critical opinion on the content of the proposal during the idea-draft-forum proposal - snapshot proposal phase, which is supposed to be incentivised by a backtracking system. Only proposals that are voted on and approved are incentivised.
Governance coordinators: Each LXDAO member can become a governance coordinator, who will call for participation in project presentations, proposal comments, and proposal voting.
3. Clear documentation
In the last quarter, the governance team has written the LXDAO whitepaper and handbook: 投票规则 - LXDAO.
It describes the current voting process in LXDAO, but there are some details that many members may still not understand.
In terms of documentation, we will write an article on governance, with a theme similar to the governance crisis caused by low participation in governance, as a way to remind people to participate more in governance.
In addition, a clear governance code will be written and training will be provided to every member who receives a Buidler card.
Possible directions to explore
Voting + Reputation System
All on-chain good behaviour you generate in LXDAO will accumulate reputation points, which members can praise each other for
Praise enables community members to recognise and reward each other's contributions. It not only helps us identify who is contributing, but also provides insight into the nature of their contributions. This information can be used to identify the types of contributions that are most valuable to the community.
Using praise fosters a culture of gratitude and appreciation. Being praised for one's work can increase motivation to continue such work, and is especially important for community members who contribute voluntarily. We believe this is directly aligned with the Fourth Intention's stated goal of fostering welcoming communities.
Accumulate Reputation Points through contributions and praise, reaching a certain level to claim voting rights
Reference:
如何提升链上治理-Tristan.pdf (613.7 KB)