Assignee: @Muxin_LXDAO
What is ESP?
How to apply for grants?
I recently did some grant research and also knew a little about ESP Grants, so sort out some content below and feel free to correct anything that is incorrect.
What is ESP?
ESP(ecosystem support program) provides grants and other support for open source projects that strengthen Ethereum's foundations, with a particular focus on builder tools, infrastructure, research, and public goods. Its mission is to do what is best for Ethereum's long-term success. Their role is to allocate resources to critical projects, to be a valued voice within the Ethereum ecosystem, and advocate for Ethereum to the outside world.
keywords: Ethereum, open source
How to apply for grants?
link: Applicants Overview | Ethereum Foundation ESP
It offers two types of grants: Small Grants(capped at $30,000) and Project Grants. If you are unsure which grant to apply for, you can schedule an office hour with an ESP team member for a 20-minute video call to clarify.
The application process is quite straightforward and has thorough information available there, so you can go to the official website, fill out the form, and wait for a response.
I'll sum up the main details listed on the official website here:
What types of projects are eligible to apply for this grant?
Small Grants(any of the following apply to your project):
In early stage: you've started work but are still testing assumptions or working toward a proof of concept.
Experimental: you have an idea that's a little "out there" but potentially impactful - and the only way to find out is to try it.
Time sensitive: you need a decision within a few weeks.
Smaller in scope: funding request comes in under $30,000.
Community event related: sponsorship requests for events focused on Ethereum's technology and community can also be submitted via the small grants pipeline.
Project Grants(any of the following apply to your project):
More complex, or larger in scope: the proposed work has multiple components or stages, a longer project timeline, or will require you to make new long-term hires.
Higher-cost: your expected budget exceeds $30,000.
A mature idea: you have thought deeply about your goals and strategy, asked yourself difficult questions to validate your approach, and thoroughly researched the state of the art in your chosen domain.
Application process:
Small Grants: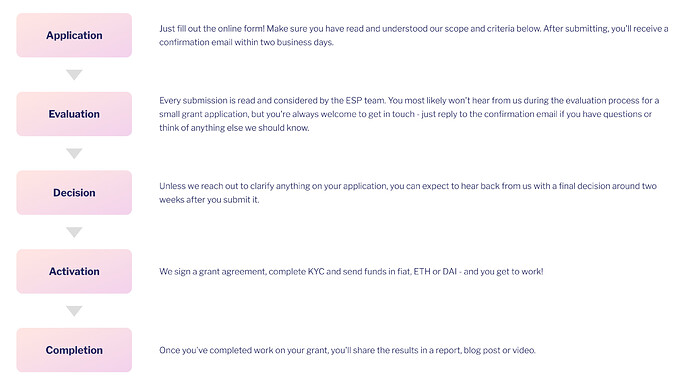 Project Grants: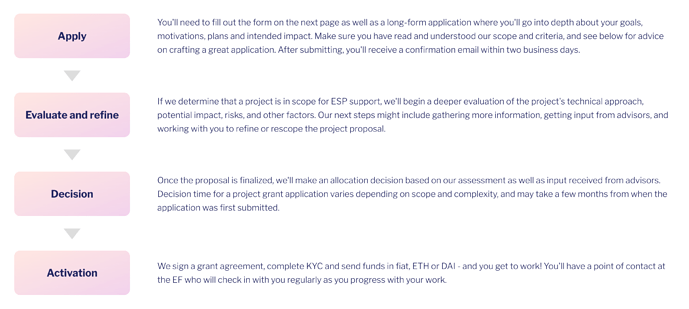 I can't speak to my experience with the entire process because I haven't submitted ESP Grants, but I have attempted to complete the entire form, so I can provide a basic list of what you should have ready.
Basic information and brief introduction of the applicant/organization
A general overview of the project
A thorough explanation of the project, as well as the goal and strategy behind the funding application
Other normal questions
(It's a challenge that calls for the project's proposed tasks, roadmap, and budget, so you must have defined plans.)
If you have the experience of applying for ESP grants, whether you were successful or not, feel free to share your experience with us.